PokerNews has some excellent coverage of the WSOP, just like in years past.  But I noticed something that really rang a bell with me tonight while keeping up on the final table of the HORSE tournament that Lana ran deep in .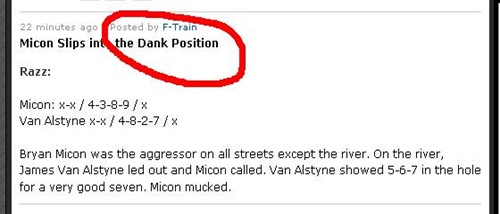 Yep, that's right.  "Dank Position" is now an official part of the poker vernacular.  As co-host of BuddyDank Radio, I feel proud that a little bit of our drunken dialog has become mainstream, but at the same time, I have a feeling that this may be the "jump the shark" moment for this phrase.  How long is it before "Dank Position" goes down as this years "BOOOOOOM", and fades away into the sunset as yet another crafty poker term that has run it's course.
For Buddy, I'm sure he's putting the barrel in his mouth right now, and has his finger on the trigger now that his name is forever associated with last place in a forum much greater than the poker blogger community.
However it turns out, thanks F-Train for the shout out to us at BuddyDank Radio.