Since I've got people betting on me these days, I should let everyone know that I do plan on playing The Mookie tonight, but I may be a little late.
I have an MRI scheduled on my neck at 7:00.  I don't know why it was scheduled for the evening, but hey, whenever they can get me in…
In late 2005 I had surgery to repair a herniated disk in my neck that was causing a great deal of pain for me.  In a nutshell, they replaced the disk with a piece of bone from a cadaver (creepy, I know), and fused the vertebrae together with a piece of titanium.  Problem corrected, right?
Fast forward 3 years, and I'm now experiencing much of the same pain that I had prior to the 2005 surgery.  I haven't met with my neurosurgeon yet, that will come after the MRI results are in, but my family doctor seems to think it may be another herniated disk, and not a problem with what was corrected in 2005.  We'll see.  Hopefully surgery won't be necessary this time.  37 is too young to have one, let alone TWO back surgeries.
BTW, painkillers kick ass.
Oh, and Numb Jr. has strep throat as well.  Trust me, he's not in the same mood today as he is in this picture.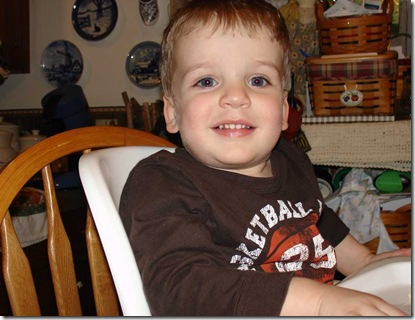 I do plan on playing tonight, but I may be late, depending on how long the MRI takes.
The Dookie is on as well, at 10:30 CST.  Back to NLHE this time, and we'll see if I can maintain my lead on The Dookie Leaderboard.