Poker
June 2nd. 2011, 5:45pm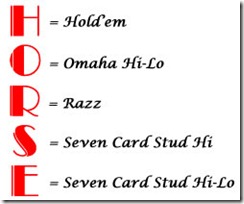 This summer I plan on playing WSOP Event #17 – HORSE.
The tournament begins Friday, June 10th at Noon PST, and is a three day event.
I'm selling shares at $30 per share, which represents exactly 2% of the entry fee of $1500. For every share purchased, the purchaser will be entitled  2% of my gross winnings (pre-tax/pre-tokes).
I will not be marking up these shares, so you'll be getting a bargain from me.
In the event that I'm unable to play in the event, purchasers will receive a full refund of the share price, to be paid by the method of my choosing.
If you're interested in purchasing shares, email me at numbbono(at)donkeysdraw(dot)com before 1:00 pm PST on Thursday, June 9th. In your email, you'll need to tell me how many shares you would like to purchase. Sending me this email does not guarantee that you'll be able to purchase any or all of the shares you request. I will contact all people via email who make inquiries by 9:00 am PST on Friday, June 10th. When I reply, I'll let you know if the shares you wish to purchase are available. You are not entitled to purchase any shares until I have indicated as such in the response email.
I'm out of town right now, but I'll flying back home to Las Vegas the night of Thursday, June 9th, so I'll be be out of touch that evening until approximately midnight PST
I will accept PayPal or in-person cash payments for the price of the shares purchased. Please DO NOT make any payments until I have responded to your email and notify you that you are entitled to. All payments must be made by . If payment is not received by that time, you will forfeit the right to purchase any shares.
Payment on shares by me (if any) will be made via PayPal or in-person cash payment as agreed by the purchaser and myself. Taxes on any payment on shares are the purchasers responsibility. The purchaser must agree to provide taxpayer identification numbers and other relevant personal information at my request so that I may comply with tax regulations regarding any gross winnings/payment on shares. If the purchaser does not provide requested information, payment on shares will be delayed until I've received the needed information.
I reserve the right to make any deals regarding the allocation of the tournament prize pool. If a deal is made, I will advise you via email as to how the deal affected the published payouts. Payment on shares will be based upon the actual payouts, not any published payouts, regardless of the source.
Leave a Reply