Poker
February 24th. 2011, 12:39am
So my ex-teammates ditched me after round one of the Survivor Poker Series. I get it, get rid of the strongest before the strongest consumes you.
At this point, my vote is still up for sale when it comes to the final vote, in the mean time, I'm all about destroying you donkeys.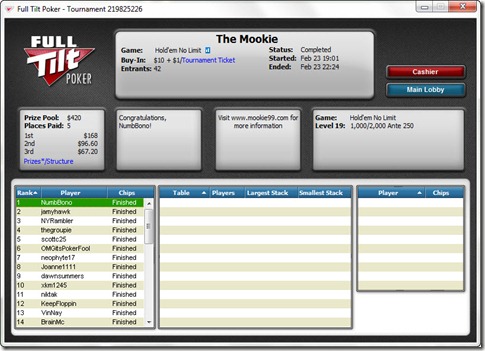 Really? The largest Mookie field in a few years, and I'm on top.  I fully understand why my fellow teammates voted me off. Heaven forbid you have the best tournament blogger in the game playing each week for your immunity.
But I'm not bitter…yes…you heard me right, I'm not bitter. I already have voting priorities in place for the final elections.
Nothing is final as far as which way I go…I can be bought, but I know who fucked me in week one, and the final winner is not one of you.
4 Responses to "The Alpha Wolf Howls…"
Leave a Reply