Poker
August 30th. 2010, 4:16pm
Spent the weekend back in my hometown participating in a couple of fantasy football drafts.  Well, one draft, one auction.  I love the auction format, sooooo much fun.  I'm the defending champ in that one, and with 12 teams and a $100 buyin, it makes for a nice payday come January.
Drove back to Des Moines Sunday night in my 13 year old pickup truck with the windows down the whole way…of course…because the A/C has been shot for about three years now, and I refuse to pay $600 minimum to fix it.  It was a nice evening though, and I listened to three or four of the Gambling Tales Podcast on the way back.  I've been collecting these podcasts on my iPod for some time now, but never got around to listening to them.  I must say, Falstaff and Special K have done a great job with it.  It's thoroughly entertaining.
Got back home and was gonna play the late $5 HORSE, but it wasn't starting up for about 45 minutes or so, and I wanted something pokery to do, but cheap to keep me busy until it started.  Pushmonkey suggested $3 NLHE Knockout Tourney, and we both entered.
To say that my NLHE game has been in the shitter for a while is a mild understatement.  Hell, the only time I really play NLHE anymore is The Mookie, and I can't sniff the final table anymore in that thing, despite the fact that its only drawing about twenty people each week.
Well…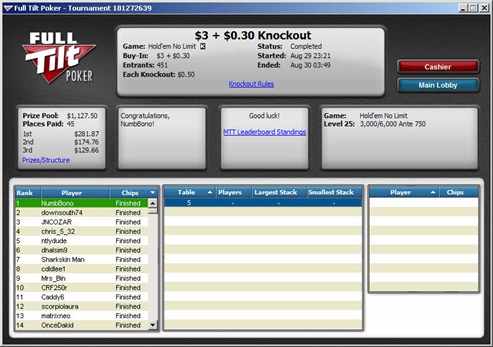 Book it baby, a victory!!!
And for good measure last night, I also did this…number twelve for those of you counting.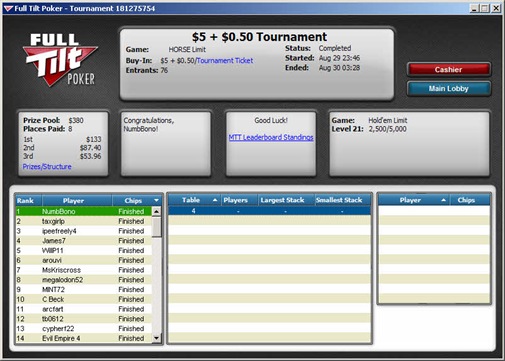 The final tables for each of these went off pretty much at the same time, so it was a fun night.
Leave a Reply