Poker
December 16th. 2009, 1:00pm
After Monday night's donkey HORSE win, I was geared up for Tuesday's MiniFTOPS HORSE tourney.  Managed to satellite in (would have bought in direct if I didn't sat in though), but played blah poker for two and a half hours, and bowed out halfway through the field of 1600 or so.
So I had to play the late $5 donkey HORSE to defend my title from Monday night.
Mission accomplished…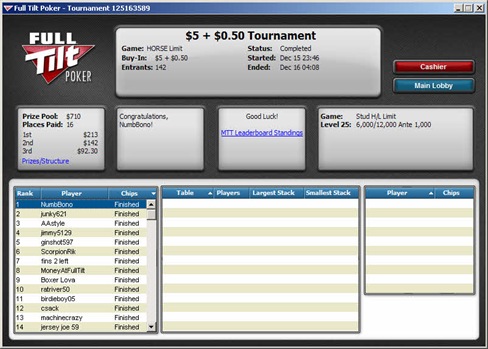 Starting with about 18 people remaining, I steamrolled this thing.  Here's the chipcounts as we entered final table play.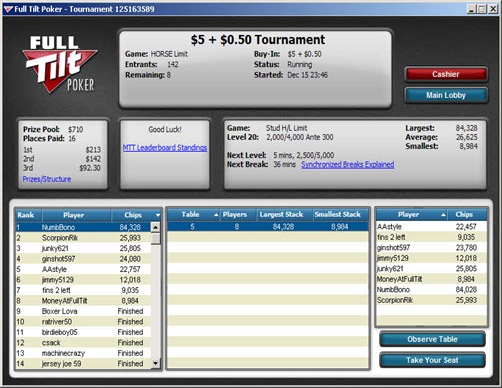 And with six to go…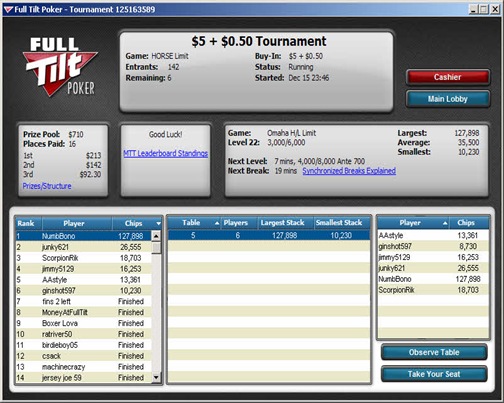 I wasn't exactly sure how many wins this was in this tournament, so I looked it up.  This would be win number 10 baby.  OPR has me down for 9, but I won one of these while OPR was having problems with Full Tilt earlier this year and wasn't getting data.
One Response to "Back to Back Wins"
Leave a Reply