Poker
June 10th. 2009, 4:15pm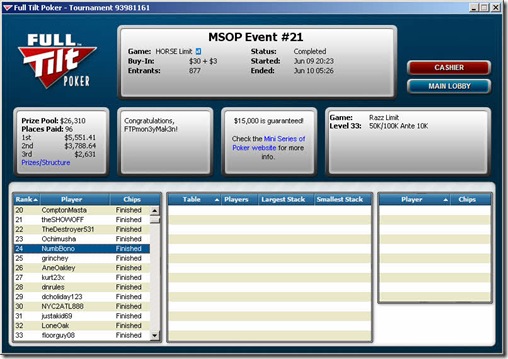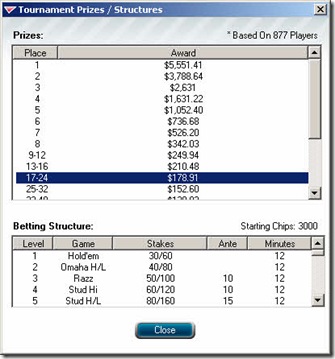 I know, a 24th place finish isn't really something to write home about, but it was for a nice hunk of cash (by my standards).  Plus outlasting that many terrible players is a pretty good accomplishment
Played top notch in this thing, my HORSE game is really working right now.  Caught some pretty good cards in the 2nd hour in Razz and Stud to take me to a top 10 stack, and I pretty much stayed in the top 50 the rest of the tourney.
Used the right balance of patience and aggression up until the very end.
It helped that I was getting big hands that held up.  It also helped that there's a lot of folks out there that like to play for half the pot at best, and chase low draws with no high hand whatsoever.
This was also a huge help for me.
Thanks to all the people who were railing me.  Nice to have a few people in your corner pulling for you.  Too many to mention, but there were quite a few over the course of the evening.
The real money to be made on this MSOP thing is in the sats.  They are just SOOOOOOO soft. Of course that money is given to you in T dollars, but that can be coverted to real money for a small fee I think.  I made a nice hunk of change just playing the sats to this tourney, and I plan on playing a bunch of sats for the upcoming mixed game MSOP events as well.
Mookie tonight.  Back to no-limit for one tourney I guess.
The Dookie is off tonight.  FTP has been messing with it, and it didn't get created this week.  Just as well, I think the Dook needed a week of summer vacation.
Since there's no Dookie, it's place will be taken by the nightly $5 HORSE tourney on FTP that goes off at 10:45 cst. Come play donkey HORSE with me.
Leave a Reply