Poker
January 28th. 2009, 12:50am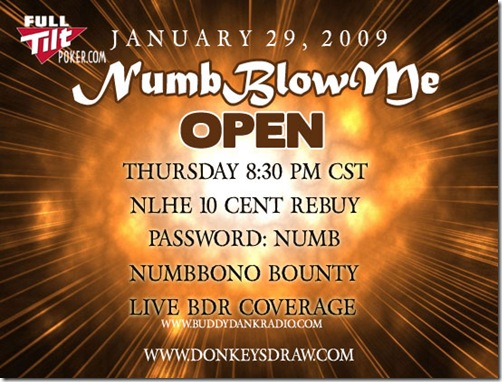 Guess what… it's almost here…the second installment of the fun…fun…funniest blogger tournament around these days.
Tired of watching Lucko jam every pot in The Mookie, then suck out on you, robbing you of your $10 buyin?  Are you sick of me running over you in The Dookie, Kat's Donkament, and any low limit HORSE tourney that you're unfortunate enough to be in with me?
How about Hoy?  Are you sick of him winning every Mookie that he enters?  Oh wait, I'm not a fiction writer, sorry about that.
Here's your chance to bust all of us, and many others…multiple times.
Come sling chips around like a high roller.  2-4 off…jam.  A-A…jam.  It doesn't matter what you have, because you're jamming every hand in this first hour, and then…at the end of the hour, you'll dig deep into the pocket of your Levi's and grab another dime to tack on those extra 1500 chips to your already swollen chipstack.
Last time, we had 99 entrants, and NutzCarson had the most rebuys, with 132.  Let's see if we can't top that this time around.
One Response to "The NumbBlowMe Open"
Leave a Reply