Poker
January 28th. 2009, 12:22am
OK, I wouldn't call it fun, but for a guy who reluctantly signed up for this weeks edition of The Skills Series because it was limit holdem, and feared dying of boredom during said tournament, I guess I fared pretty well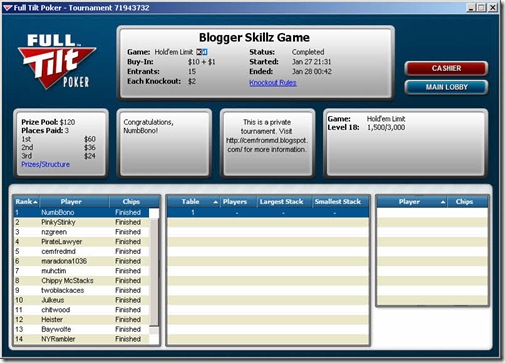 Knocked out over half the field, with eight bounties as well.
It's funny, I'm becoming more and more of a HORSE specialist these days, but I consider LHE the weakest part of my HORSE game.  I mixed things up from my usual LHE strategies tonight, and I think I may have opened my eyes up to a few leaks in my usual LHE game.  Further exploration is needed.
Since the new year, I've focused my energies on games that…well… I'm good at.  Namely HORSE, and I've revisited my strategy for playing Heads-Up Sit and Go's.  I used to to kill the NLHE HU SnG's in the $5 to $10 range, but the latter part of 2008 saw a steady deterioration of my HU game.  Basically, I'd become too passive.  In my case, you could probably call it laziness.  Proper attention is needed when playing HU, and I think that's where I failed.  I've plugged that leak, and the results are good, save for a short mid-month lapse.
The turnaround in my game, as well as profits, actually goes back to early November of last year.  At that point in time, I had around $60 combined left on "The Big Three", Full Tilt, PokerStars, and Bodog.  Today, that amount is up around $1500, with healthy enough rolls on each site to play the games that are profitable to me (although Bodog doesn't offer HORSE).  And no reloads for me thank you.
I know it's not Lucko or Chad type money, but it's pretty good for me.
Here's to continued success in 2009 for not only me, but for all of you.
4 Responses to "Limit Holdem is fun"
Leave a Reply