Poker
November 10th. 2008, 1:44pm
As I mentioned, I took down the Donkament last Friday, with muhctim taking second.  But there was much more to our Friday evening than this.
While heads up, and his stack around 100K, and mine around 70K, I asked muhctim if I should play the nightly 10:45 HORSE tournament (in which I've had tremendous success), he immediately responded by asking when it started.  So we both entered it.
The Donkament ended about 15 minutes after the HORSE tourney started, but during that time, muhctim asked me if I wanted to chop the 1/2 money.  I thought about it, as he held about a 100K to 70K advantage over me at that time, but ultimately refused.  I really wanted to earn a Donkament title on my own.  I was fortunate enough to win the thing eventually, and then we both focused on the HORSE tourney.
Well, waddayanknow, we both not only final tabled it, but nearly had a repeat of our Donakament results, with him finishing third, and myself taking the runner-up spot out of 161 runners, which was about twice the size of the fields of my previous HORSE wins in this tournament.
Not a bad night.  Hard to believe that just a week earlier I'd allowed the roll to slip to just under $5, and now it's up over $400.  No reload for me thank you.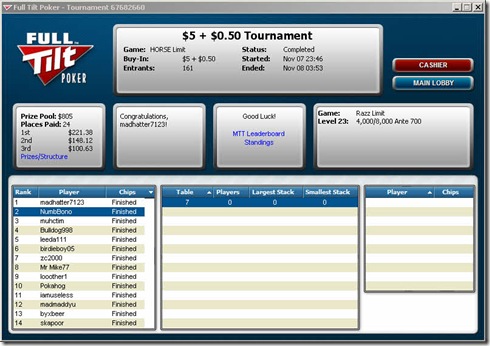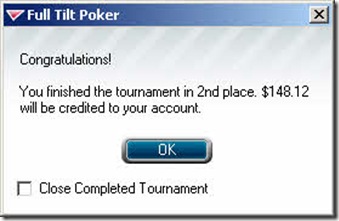 3 Responses to "A HORSE Bonus From Last Friday"
Leave a Reply