Poker
October 10th. 2008, 10:01pm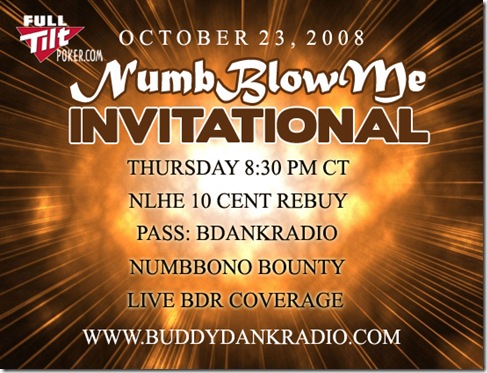 We at BuddyDank Radio have put our heads together and decided to put together a special little tournament for everyone.  This tournament is open to anyone out there, not just poker bloggers.
Poker bloggers run regular tournaments all the time. Some of you may or may not know about them (if you're interested, let me know and I can get you the info), but this tournament is a special one-time event, although it may evolve into something more frequent down the road.
For anyone not familiar with BuddyDank Radio, it was created by BuddyDank in 2007 to provide a little coverage…and a lot of entertainment… during blogger tournaments.  It's an outstanding way to have bloggers connect and as well as add some fun to their tournaments.
BuddyDank Radio has always, and will always, cover The Mookie, which is the flagship blogger tournament on Wednesday nights.  During the Battle of the Blogger Tournament Series (BBT), coverage is ramped up quite a bit, as the stakes are a bit higher.  BuddyDank Radio was there to cover nearly every event of the last BBT, and plans are underway to do the same in the future.
This special tournament is going to be a dime rebuy tourney on Full Tilt Poker. Some of you might ask why the juice is so high in relation to the buyin. Well FTP won't set up a private rebuy tourney without at least $1 juice.
There will be a bounty on me, NumbBono, for this tournament. We're not sure exactly what the bounty will be (money, a creative prize, etc…) yet, but rest assured, something will be awarded to the donkey that knocks me out (after the rebuy period of course).
Quite honestly, the main reason we're doing this is because dime rebuys sound like too much fun, and we just gotta give one a try.
Here's the info
The NumbBlowMe Invitational
Tournament # 63820195
10/23/2008
8:30 pm CST
NLHE – 0.10 + 1.00
Unlimited dime rebuys until first break
Dime add-on of 1500 chips at first break
password = bdankradio
It's gonna be a complete shovefest during the rebuy period…which is the idea. But it should make for some interesting deep stack poker at the end of the rebuy period. Heck, I have no idea how's it's gonna turn out, but it sure will be a fun ride.
Do expect to see nearly every person shoving every hand during the rebuy period. Don't come here looking for ABC, Harringbot, or Snyderbot poker. At least not during the first hour.
I've already seen people posting on their blogs and wondering in forums just how many rebuys are going to be possible in this event.  I have no idea, I'll leave the math up to someone else, but whoever is at the top of the leaderboard at the end of the rebuy period certainly will have a tremendous stack in relation to the blinds.
The company will be fun, and BuddyDank Radio will be broadcasting the event live, which is always a blast… having live coverage of an online tournament.
If anyone has any questions, please, feel free to contact me, using the contact information you see here on my blog.
~numbbono
2 Responses to "The NumbBlowMe Invitational"
Leave a Reply