Poker
July 31st. 2008, 12:30am
Let me start off by saying that I hate the Green Bay Packers, and I hate Brett Favre. I'm a Detroit Lions fan, so it's a divisional rivalry thing.
Now that we've got that out of the way, let's talk about this.
So here's the rundown.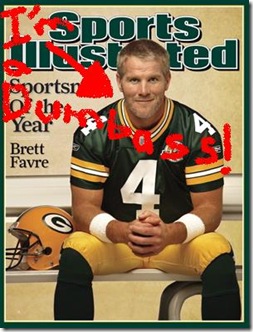 Favre has been wishy washy about whether or not he's going to retire for a few seasons prior to 2007, taking his time after each season was over to make his decision, But ultimately returning.
During the few seasons leading up to 2007, Favre's game has been declining each year, with his deficiencies becoming more and more evident. Throwing crazy passes into tight spots, leading the league in interceptions (2005), it certainly looked like he was on his way out of the game.
So Favre does his little song and dance in the spring of 2007, and decides to come back. And lo and behold, he has a magnificent 2007, nearly leading the Packers into the Super Bowl.
Come spring, the 38 year old Favre decides to retire in a tearful press conference that made me want to vomit in a bucket, than drink a mug of said vomit so I wouldn't have to watch the screen anymore.
Then the shit starts up. As the summer progresses, it's becoming more evident that Queen Favre just might not be ready to hang up the spikes. In the meantime, the FudgePackers have already made plans to proceed without him.
So here we are today. We have a team that would rather pay one of the best quarterbacks to ever play the game to stay retired than to have him command a team that has some pretty decent pieces in place to make another run:
from ESPN on 7/31/2008
WTMJ television in Milwaukee reported the team offered Favre several million dollars to stay retired, and the Green Bay Press-Gazette reported on its Web site that the team offered Favre "a substantial salary" to stay away. Both reports cited sources close to Favre. But signs still point to the quarterback reporting to Packers camp.
My Detroit Lions are fucked up. Matt Millen has absolutely ruined that team, but this is completely beyond anything that we are going through.
The Lions organization may have found an indirect way of driving Barry Sanders away, but we never would have paid him to stay away.
Granted, Favre has jerked the Packers around with his decision making process, but man, how can you pay this guy not to play. Do they really think that Aaron Rodgers is that good?
Anything that makes the Packers weaker is a good thing in my book, so I'm gonna eat up all this drama, and pray that Matt Millen gets hit by a truck next week.
2 Responses to "Brett Favre and the Packers, a match made in heaven"
Leave a Reply