Poker
June 19th. 2008, 1:55am
Won last night's $5.50 10:45pm HORSE tourney…AGAIN, for the second time in two weeks.  This is getting to the point where I'm starting to think I might know how to play this game a little bit.
I skated into the final table by playing the bubble game.  I was lucky and won, but was the short stack.  Encouragement from my watchers kept me from doing anything too stupid, and before long, I was up to a workable stack, and could actually play something other than push or fold poker.
I entered headsup play with a 4/1 disadvantage, and decided to activate my Lucko powers, and use some luckbox/aggro methods to take the whole effin' thing down.
Thanks to Tragedy and Joanada, who I was chatting with throughout most of my run to the title, and also to Zeem, who railed for a little bit as well.
Oh, and congrats to our man Tragedy for taking down The Mookie last night.  Welcome to the club good friend.
It was a good night.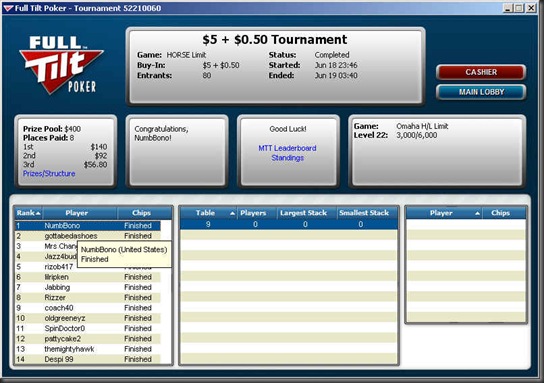 5 Responses to "This is getting ridiculous"

Leave a Reply