Poker
June 4th. 2008, 11:01am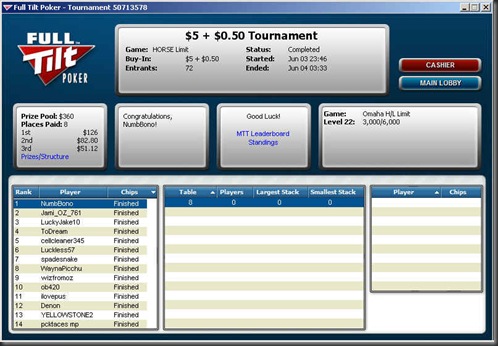 I've been playing the nightly $5.50 HORSE tourney at 10:45 CST on FTP for about a month now. Not every day, but whenever I was sitting there at the computer, and wasn't too busy.
It started as a way to hone my non-NLHE skills. Granted, a $5 tourney doesn't exactly draw the best competition, but it's still a fun little tourney, and a cheap way to get some tourney experience in O8, Razz, Stud, and Stud8
I've final tabled this thing a few times, and my highest finish was third place a few weeks ago. I once jokingly said to Donkette, who has joined me in this tournament on occasion, "I'm gonna play this thing until I win it."
Well, I guess I can't play this one anymore.
4 Responses to "Finally, a Victory"

Leave a Reply